The site provides a great deal of free information. See the links below to access it.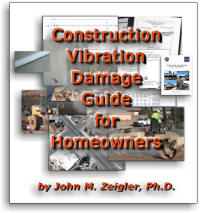 Construction Vibration Damage Guide for Homeowners (CVDG)
Construction damage, usually due to vibration or other forms of ground excitation caused by the improper use of heavy equipment, occurs much more often than those in that industry will usually admit. The typical homeowner lacks the knowledge and documentation to pursue a legitimate claim against construction firms and their insurance companies. Dr. Zeigler has spent nearly 8 years investigating, documenting and evaluating vibration damage phenomena in the context of extensive damage done to his own home. By following this link, you find out some of what he learned about how to pursue a construction vibration damage claim, even if you don't wish to litigate the claim. The Guide also has extensive information about how to prepare for proposed construction in your area to prevent damage before it happens.

In addition to reading the pages in HTML on our dedicated site, http://vibrationdamage.com, you can get a full PDF version of the 110+ page Guide from our Downloads page. A Professional Edition of the CVDG is also available for attorneys, consultants and homeowners who have claims in litigation.
SPCALC Science
The science behind our SPCALC solvent property database and mixed solvent calculator. Learn how application of solvent cavitation energies can help you pick an optimum solvent for any purpose in SPCALC, even if you need to mix solvents.